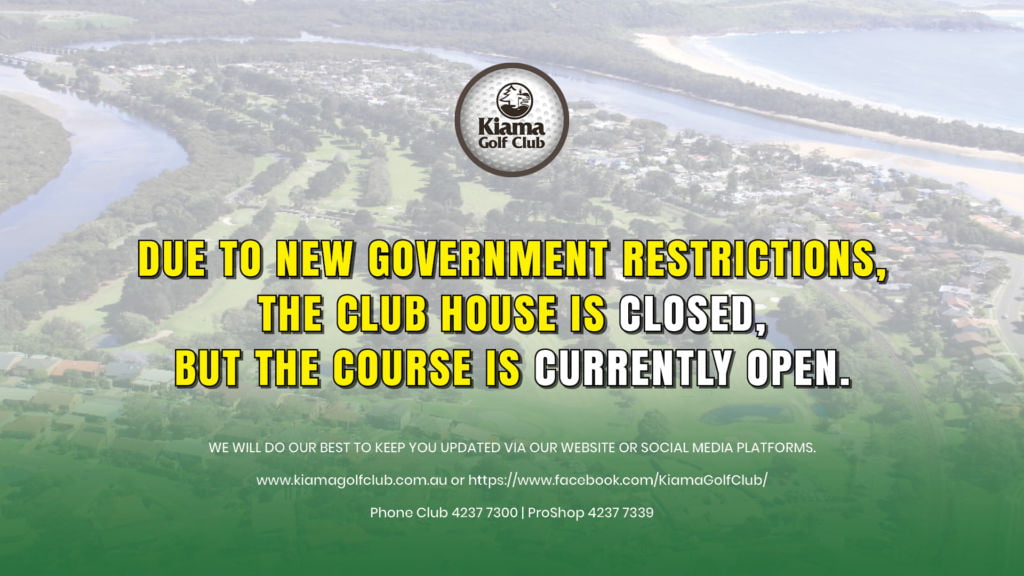 Update 8/4/2020 
Updated April 4/4/2020
The Board of Kiama Golf Club have made the decision to only allow access to Kiama GC to its GOLFING MEMBERS only. Tee times are for golfing members or a member with a guest when the guest resides in the 2533 postcode
Strict adherence to social distancing rules.
No carts or pull buggies are available for hire.
NO gatherings of more than two people anywhere including the car park, putting green or practice facilities
The Pro Shop is open for takeaways but members are encouraged not to mingle before or after their round. Enjoy your takeaway at home.
The return of competition golf is still being reviewed.
At this early stage, Pro Shop and tee time hours are restricted to 8am – 4pm but this is under review pending safe, ongoing operation of the course.
There is strong advice that people aged 70 and over should stay at home and self-isolate for their own protection to the maximum extent practical.
These arrangements should also apply to those with chronic illness and indigenous people over the age of 50."
The course closes at 6pm. All golfers must vacate the premises at this time.
For more information from the Government about Coronavirus (COVID-19) advice for older people visit
ttps://www.health.gov.au/news/health-alerts/novel-coronavirus-2019-ncov-health-alert/advice-for-people-at-risk-of-coronavirus-covid-19/coronavirus-covid-19-advice-for-older-people
Notice to Members- April 1st 2020
-Update 30/3/2020
Following advice from ClubsNSW and Golf Australia, the Board of Kiama Golf Club have made the difficult decision to cease all golf activity including the closure of the course, for the foreseeable future. This will be in effect from Midnight tonight (30th March 2020). We have just received this updated advice late this afternoon and will be assessing the full impact overnight. A message from the Board and Management with further updates will be posted to our Website and Facebook over the next 24 hours. Thank you for your understanding. Regards David Rootham -GM
Notice to Members- March 24th 2020