Membership payments with credit card via phone, in person at reception or online via PayPal or Pay as you Golf Brochure https://www.payasyougolf.com.au/
All golf memberships can take up to 5 working days to be processed. Once processed we will email or phone you. Then membership cards can be collected from reception.  
Financial year starts 1st February, annual fees are pro rata from 1st April.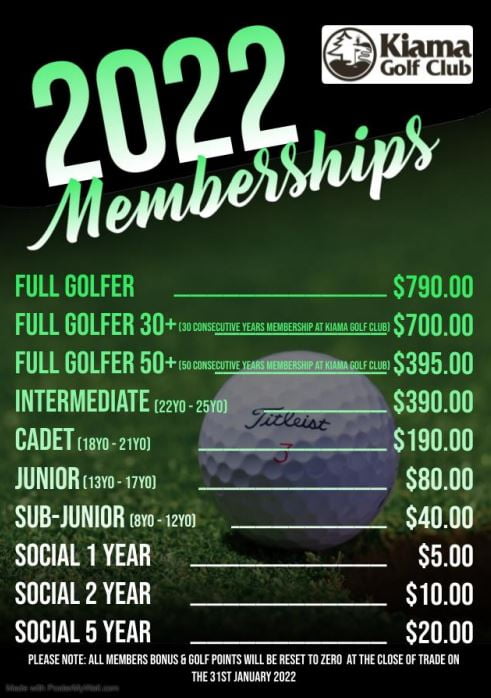 Membership cost
Pro rata fees are effective from the 1st of each month from 1st April 2022
Full Playing Membership

2022 Annual $790- Expires 31/1/2023

July Pro rata $460

Full Playing -pay as you play-  Instalments Pro rata fee + fees. T & C's apply

Online application
More information available at club's reception

Intermediate Membership 22- 25 yrs

 

Cadet Membership   18-21 yrs

Junior 13- 17 yrs

Sun Junior 8 – 12 yrs

2022 Annual $390 Expires 31/1/2023 July Fee $227

2022 Annual $190- Expiries 31/1/2023 July Fee $110

2022 Annual $80 – Expiries 31/1/2023 July Fee $45

2022 Annual $40- Expires 31/1/2023 / No pro rata apply
Apply for Membership