Hole 1
| Type | METERS | PAR |
| --- | --- | --- |
| MEN | 392 | 4 |
| LADIES | 392 | 5 |
Hole 2
| Type | METERS | PAR |
| --- | --- | --- |
| MEN | 286 | 4 |
| LADIES | 286 | 4 |
Hole 3
| Type | METERS | PAR |
| --- | --- | --- |
| MEN | 298 | 4 |
| LADIES | 298 | 4 |
Hole 4
| Type | METERS | PAR |
| --- | --- | --- |
| MEN | 135 | 3 |
| LADIES | 135 | 3 |
Hole 5
| Type | METERS | PAR |
| --- | --- | --- |
| MEN | 368 | 4 |
| LADIES | 369 | 5 |
Hole 6
| Type | METERS | PAR |
| --- | --- | --- |
| MEN | 141 | 3 |
| LADIES | 142 | 3 |
Hole 7
| Type | METERS | PAR |
| --- | --- | --- |
| MEN | 498 | 5 |
| LADIES | 413 | 5 |
Hole 8
| Type | METERS | PAR |
| --- | --- | --- |
| MEN | 298 | 4 |
| LADIES | 298 | 4 |
Hole 9
| Type | METERS | PAR |
| --- | --- | --- |
| MEN |  174 |  3 |
| LADIES |  124 |  3 |
Hole 10
| Type | METERS | PAR |
| --- | --- | --- |
| MEN |  275 |  4 |
| LADIES |  246 |  4 |
Hole 11
| Type | METERS | PAR |
| --- | --- | --- |
| MEN |  141 |  3 |
| LADIES |  141 |  3 |
Hole 12
| Type | METERS | PAR |
| --- | --- | --- |
| MEN |  517 |  5 |
| LADIES |  432 |  5 |
Hole 13
| Type | METERS | PAR |
| --- | --- | --- |
| MEN |  183 |  3 |
| LADIES |  183 |  3 |
Hole 14
| Type | METERS | PAR |
| --- | --- | --- |
| MEN |  149 |  3 |
| LADIES |  149 |  3 |
Hole 15
| Type | METERS | PAR |
| --- | --- | --- |
| MEN |  399 |  4 |
| LADIES |  399 |  5 |
Hole 16
| Type | METERS | PAR |
| --- | --- | --- |
| MEN |  161 |  3 |
| LADIES |  148 |  3 |
Hole 17
| Type | METERS | PAR |
| --- | --- | --- |
| MEN |  192 |  3 |
| LADIES |  185 |  3 |
Hole 18
| Type | METERS | PAR |
| --- | --- | --- |
| MEN |  348 |  4 |
| LADIES |  319 |  4 |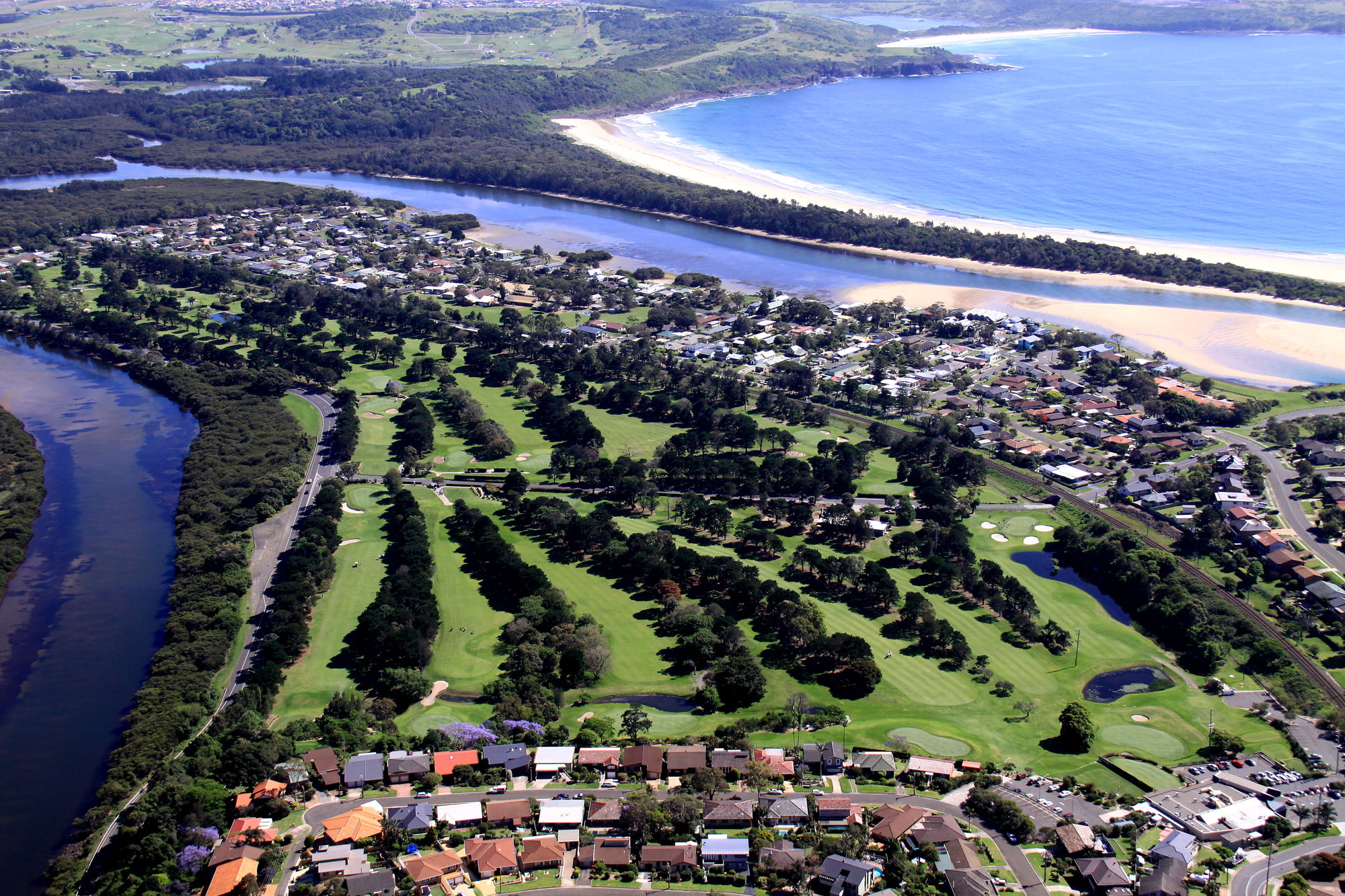 Situated in the picturesque seaside village of Minnamurra and on the banks of the Minnamurra river Kiama Golf course is an 18 hole par 66 course with panoramic views of the escarpment and challenging tree lined fairways. The course is a favoured golfing destination because of the enjoyable layout and the proximity to Kiama Township and the myriad of recreation and relaxation opportunities available throughout the region.
Kiama is unique in that we can host social golf 7 days a week including lots of morning opportunities. Contact the Golf Shop for a booking tel:0242377300 or email on proshop@kiamagolfclub.com.au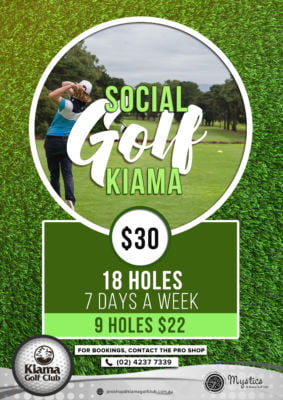 Green fees 7 days a week
| | |
| --- | --- |
| 18 holes | $30 |
| 9 Holes | $22 |
| Twilight from 2:00pm | $22 |
| Competition Fee Non Member | $32 Green Grass Members Mon-Fri – $36 Green Grass Members Sat-Sun – $40 Online Members (SGA, Below the pin ect.) |
| Juniors | $7 (9 or 18 holes) |
| Motorised Cart (18 holes) | $40 Non Members $30 Members  |
| Motorised Cart (9 holes) | $25 Non Members $19 Members  |
Private Carts
Non-members MUST fill out a "Request for a non-member to use Motorized golf cart/cycle' these can be filled out prior to round in the proshop. The fee to bring a two-seater cart onto Kiama Golf course is $30 and a single ride-on cart/scooter or cycle is $15.
For further information please contact the club on 42377300
Group Golf
Social Clubs
We love having social clubs play at our course and our Pro Shop staff would appreciate the opportunity to talk with you to arrange the best experience possible for your club. To make a booking please contact the Pro Shop on (02) 4237 7300 or proshop@kiamagolfclub.com.au.
Corporate Golf Days
Kiama Golf Club has a fantastic combination of an enjoyable course and a modern clubhouse that ensures that any day you host will be a success. We would love to talk with you to help make your next Corporate golf day amazing. Please contact the club on (02) 4237 7300 or kiamagolfclub@kiamagolfclub.com.au for more details. Event information is also available here.
Equipment hire
Kiama Golf Course has a full range of golf equipment to hire including left and right-handed club sets and juniors sets so the whole family can play.
Motorised carts are available to hire for $40 for 18 holes or $25 for 9 holes. Private carts are not permitted without prior consent ( more information below )
Dress Code
The detailed dress standards required by Kiama Golf Club are displayed at the Pro Shop and within the Club House. In general;
No soiled clothing to be worn at any time
Dress must be neat & tidy
Collared or mock neck golf shirts for men
Ladies sleeveless tops require a high neck or collar
Ladies tops with sleeves need not have a collar
Presentable shorts / skirts / slacks
Not permitted singlet tops, bare midriffs, track or bike pants
Covered footwear must be worn, for players and caddies
Metal spikes are NOT permitted.
Golf Carts
The below Private Golf Cart Agreement & Usage rules that will be implemented at the start of our financial year 2020.  Kiama Golf Club private cart use policy. 
If you are a visitor to Kiama golf club and would like to bring your own private golf cart you are required to fill in documents with the proshop before your cart can access the course. Fee's also apply. If you would further information please contact our proshop on 42377339
Conditions of Play
2 Person Ambrose / 3 Person Ambrose  /4 Person Ambrose  /1-2-3 Countdown  /Club Match  /NSW Keno Mens Fourball Championships  /4 Person Countdown /Greenkeeper's Revenge- 2 Person Ambrose /Mixed Foursome Championships /Alan Boyd Memorial Handicap Matchplay Conditions / 2 Ball Multiplier Stableford / 4 Person Texas Scramble / Brian Cardwell Memorial /Mixed 2 Person Ambrose /PGA Members  /Bisque Par /2 Tee Tournament Draw /