Benefits & Fees
Our members are incredibly important to us here at Kiama Golf Club, so we strive to make sure that there are benefits which can be utilised by all our members.
Such benefits include the following:
Access to the best all weather course in the Illawarra
Free social golf for full golf members 7 days a week ( Playing Members)
Members discounts at our Bar, Bistro and Golf Shop
Entry in a variety of members draws & promotions
Birthday month bonus draws and birthday gifts
Point accumulation that can be redeemed at the club
Professional bar service and facilities that cater for all requirements
Mystics bistro for all your dinning needs
Full functioning coffee shop open seven days a week
A family friendly inclusive environment for all ages
Knowledge that you are contributing directly to the development of the Kiama community
2022 Fees- Financial year from 1 February – Pro rata fees apply from 1st of each month starts April 2022.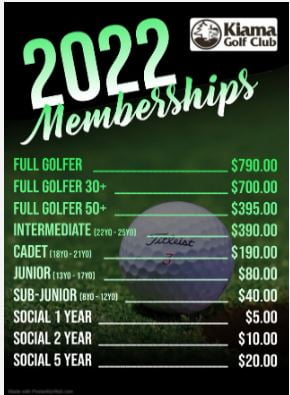 Join today online or at the club's reception.
ALL GOLF MEMBERSHIPS CAN TAKE UP TO 5 WORKING DAYS TO BE PROCESSED. ONCE PROCESSED WE WILL EMAIL OR PHONE YOU. THEN MEMBERSHIP CARDS CAN BE COLLECTED FROM RECEPTION.  
New members will need to come to the club's reception and show a current drivers licence or ID card, sign the application form and get a photo taken for your membership card. 
Membership Type
Annual Fee
Social Membership with Bonus Points expires 31/1/2023
$5
Social Membership with Bonus Points expires 31/1/2024
$10
Social Membership with Bonus Points expires 31/1/2027
$20
Full golfing member expires 31/1/2023  August Pro rata $395
$790
Intermediate (22- 25yrs) expires 31/1/2023 August Pro rata $195

Cadet (18-21yrs) expires 31/1/2023 August Pro rata $94

$390

$190

Junior (13-17yrs) expires 31/1/2023   Pro rata $45
$80
Sub-junior (8 -12yrs) expires 31/1/2023  No Pro rata
$40
To find out how to become a member, please ask one of our friendly staff by calling us on (02) 4237 7300 or emailing us at kiamagolfclub@kiamagolfclub.com.au.
Renewal times
Your membership to Kiama Golf Club must be renewed every year. Our membership year runs from 1st February to the 31st of January. This is also the club's financial year.
All members' clubhouse points will be reset to zero at the close of trade on 31st January of each year.
Towards the end of each financial year, we will send you a letter/SMS/email reminding you that your membership is due for renewal. The quickest way to renew is to come to the club and speak to our friendly staff who can renew your membership on the spot however if this is not possible please contact our reception staff for alternatives. Fees will depend on your type of membership.
And don't worry, there's no need to take another photo, we can simply reprint you a new card.
Clubhouse rules and presentation
Non-members are always welcome at Kiama Golf Club, however, being a licensed club, we require anyone living within a 5-kilometer radius of the club to be a member OR be signed by a member to gain access.
If you live outside that 5km range you can sign in as a visitor at reception. The same applies if you are visiting from overseas or interstate. Our friendly staff will greet you at reception and help you sign in.
Clubhouse Dress
Acceptable -Neat, clean & tidy clothing, Women's & men's dress sandals, Dress shirts without a collar
Not Acceptable – Hats & helmets, Swimwear, Singlets, Bike shorts, Training Apparel, Faded or Frayed Clothing
Social membership is just $5 a year.
To learn more about Club rules for Visitors on the Liquor & Gaming NSW website click here.
Club rules for visitors
Many people attempt to enter a licenced club without being aware there are entry requirements imposed by the Registered Clubs Act 1976 and the clubs' own rules.
A visitor can enter a club that allows temporary membership if they meet any of the following criteria:
They reside more than 5 kilometres from the club, or
Member of another club that has ​similar objectives, or
Member of another club and invited to attend an organised sporting event.
Usually, you sign in and given a temporary membership (except if you are attending a sporting event).
Visitors should present photo ID (such as a drivers licence) with current address. Also, some clubs may apply a greater distance than 5km.
If you are attending a function, such as a wedding, those guests who are not eligible to enter as temporary members can usually enter as guests of a member attending the wedding. But the club's rules may limit the number of guests a member can sign in. The club should make the function organiser aware of the rules at the time of booking.
Clubs can limit the number of times a person can be admitted as a temporary member through their club policy, to encourage people who use the club to have a sense of ownership of the club and be bound by its rules. When you are a member you can sign in your guests.
Entry requirements
Families in our club
We love having families and kids in our club however because we are a Registered Club there are some restrictions on where kids can go within the club as well as the need to have appropriate supervision as noted under the Registered Clubs act and as a matter of courtesy to other club users. Please talk to our friendly staff for more information.
Age restrictions
Persons must be 18 years or over to enter most areas of a licenced club.
Minors can enter designated areas, as approved, including alcohol-free functions. See entry for minors.
Area restrictions
Minors are not permitted to enter gaming and TAB area's.