Kiama Veterans Golf is the ideal group for any active over 55 who is a keen golfer or just new to the game. Our Vets committee strives to create a social, inclusive atmosphere while still offering the chance for competitive golf.
Kiama Golf Club hosts Vets golf on the 2nd Tuesday of each month.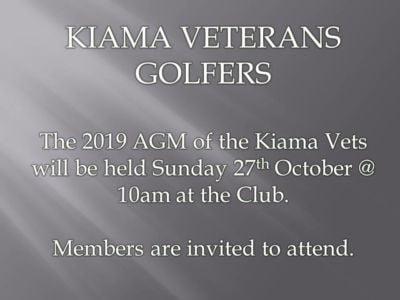 Kiama Veteran Golfers – October news
The following are/maybe of interest to Veteran Members of the Kiama Golf Club.
The committee of Kiama Vets function in a manner  we consider is of, or in the best interest of Vets members and Kiama Golf Club members  generally.  In doing so we have contributed both financially and positively to the club.
Matters  we wish to bring to members attention are;
The upcoming Seaside/Valley  tournament to be played during the week for  24th to 29th November.  This event is conducted under  the auspicious of N.S.W. VGA and is played as three rounds of single stableford and one round of 4BBB.
Sunday afternoon 24th will involve welcoming and registration of participating players at Kiama Golf Club.
Monday  25th  – first round of competition, single stableford at Jamberoo.
Tuesday  26rd – Second round of competition at Kiama.
Wednesday 27th rest and/or recuperation.
Thursday  28th    third round of competition followed by presentation evening, both at Kiama.
Friday 29th  –  4 BBB competition at Jamberoo.
Members are very welcome to participate in this event.  Entry forms are generally available in the downstairs foyer of the club.  If not you are more than welcome to contact myself, the club or Bob Smith, the Tournament Director.   Further we asked anyone available and interested to act in a positive way as spotters/helpers  around the course.  This service has been provided in past years and is positively accepted and appreciated by participating visitors.  Members available to help in this way are asked to add their names to a list displayed on the Vets notice board in the foyer.
Vets members are reminded of the return visit of  Mollymook vets on 2nd December.  This event forms part of twice yearly return visits between our clubs.  These days are played in a fun/friendly environment and anyone who has participated have returned with positive comments.   A list will soon appear on the Vets Notice Board in the downstairs foyer for those wishing to play on the 2nd.   Our president, Barry White, happily fulfills the roll as organisor.
Most importantly,  Vets members  are reminded Kiama Veteran Golfs Committee A.G.M. is scheduled to be held at 10am on Sunday 27th October at golf club.   Members are encouraged  to attend if for nothing else but forwarded your ideas/desired/thoughts  of what you want from the committee.   YES ALL COMMITTEE POSITION ARE UP FOR ELECTION AND MAYBE REJUVENATION.  
5.  Members are reminded the next round of the Trevor Bell Shield is to be played at Kiama on Monday 14th October.   If interested in participating contact Gus O'Brien.
 Kel Schreiber/ Captain.